---
---
Keep Your Cat Active, Fit, and Busy for Hours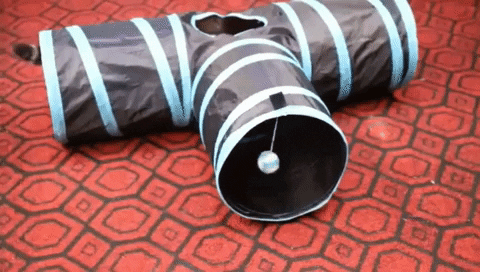 Arms sore from pointing laser dots for your cat all day long?
Cat owners have it tough. It's pretty hard to entertain a cat, especially if he doesn't want to go out anymore. Yet, in order to keep your hairball, fit and healthy, it's essential to help him stay in shape.
And sometimes playing with him is inevitable. Except it's not!
Unfold a whole new kind of cat toys. And Discover a unique combination of a cat box and an engaging play toy. The Foldable Kitty Training Tunnel is an ingenious way to entertain your pet while satisfying its natural cat instincts.
Self-Entertainment: If you're a remote worker, you certainly know the struggle of owning a playful cat. So, buying one of these cat play tunnels is a sigh of relief for your work time and computer keyboard.
The Ultimate Distraction: Especially if you own more than one cat. The tunnels are static-free and noiseless. All you'll be hearing are your cats rustling in the middle. So, you can finally find time to do what you do best.
Safe and Harmless for Your Cat: And don't worry if your cat dives into these triple tunnels all day. We've made sure it's 100% harmless to your kitten. It's made from durable, safe, non-toxic, food-grade materials. This way, your furball can bite and scratch as much as it wants without risking its health.
Portable and Easy to Wash: To keep things simple and practical. We've made the Kitty training tunnel fold in a snap. And machine washable. For extended use and trouble-free handling.
Order Today
&
Help Your Kitty Exercise and have Endless Fun 
Get yours now by clicking the buy button and filling the order form. We will ship your entire package to you immediately.
---