---
---
PROVIDE AN ENDLESS AMOUNT OF FETCHING FUN FOR YOUR DOG WITH THIS INTERACTIVE AUTOMATIC DOG BALL LAUNCHER!
They say every dog knows how to make a human happy, but not every human knows how to make a dog happy. We love our doggos and puppers, and ideally, we always want to make sure they are as happy as they could be but we don't know what to do..
Let us tell you straight up: The way to the heart of any doggo is through play!Tennis Ball Launcher is more than just a toy, for your Dog, it's a playmate! Offering your pet-pooch a playmate that will give them unlimited happiness will make you the best pet parent you can be!
Interactive Automatic Dog Ball Launcher will play with your dog when you are tiredor not home!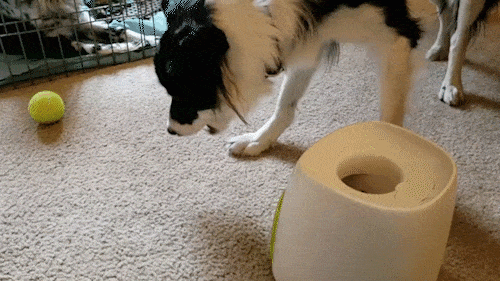 It will help your dog to get exercise when you don't take him out as much as you should. Encourage your dog to "bring!" the ball back to the launcher for more fetching fun.
MORE THAN A GAME - A PLAYMATE

:

 

All dogs are ball-crazy and love fetch! They love it so much they want to play for hours and hours. But dog owners don't always have the same high energy levels as some doggos. Here comes the Tennis Ball Launcher, your pet can play their favourite game without you having to make efforts or get tired.
Very easy to use..

 

even for your fur babies!

 

They'll just have to drop the ball back into the launcher and the latter will then emit or throw the ball out for them to fetch.
The game keeps on going

 

automatically

!
Keeps pets occupied all by themselves.
Makes the

 

perfect gift 

for busy "parents".
HIGH-QUALITY: We strive to offer top and high-quality products. The Launcher is made out of high-quality plastic guaranteeing its long-term durability. The game can be played both indoors and outdoors.
AUTOMATIC LAUNCH: Your dog simply drops the ball into the launcher and fetches it once it pops out! You will be amazed by how easy it is and how entertained your dog will be for long hours at a time!
---