---
---
Sleep with Partner Comfortably without Arms Going Numbs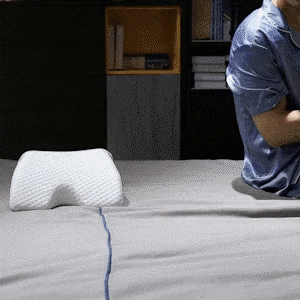 😴 Relief Neck, Shoulder and Back Pain
😴 Sleep with Partner without Arms Going Numb
😴 Improve Sleep Quality
😴 Perfect for Couples and Make Relationship Closer
1# Couples Pillow for Relaxation and Full Night Of Sleep
Relief Neck, Shoulder and Back Pain
The gentle, contoured slope of these pillows supports the neck and shoulders and may help alleviate any tension or stiffness in the spinal column by promoting proper spinal alignment.
Protect from Arm Numbness
The unique hollow design at the bottom of the pillow prevents numbness in the arms during sleep.
Improved Sleep Quality
Using high-quality materials and padded cotton, a comfortable touch can relax your body and mind.
You can also use it as a backrest while sitting on a chair.
"I bought this for at night when my partner lays with me. It completely stopped my arm from getting numb and is comfy for her to put her head on." - Brenda Stein
---